Adaptive & Inclusion Programs
Adaptive Cycling Clinic
Were are ready to take our two adaptive cycles for a spin. This event is for individual who may benefit from a non-traditional bicycle, come try various adaptive bikes and enjoy a short ride. Trained personnel on site for bike fitting and information.
Ages: 8 and older
Dates: Saturday March 19th
Time: TBA
Location: Fourth of July Park; 702 W Mountain St
Registration information coming soon!
Challenger Division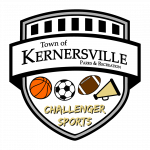 There are many ways for everyone to get involved with the Challenger Division. You can volunteer to be a coach or assistant coach, offer support in recruitment of players, help spread the word about the Challenger Division throughout our community and more. Contact us at cray@toknc.com if you are interested in helping out.
Challenger Cheer
What is a sports team, without a cheer squad?! Join us to learn a routine and perform at the Award Ceremony at the end of the season. This programs is for all genders who love to dance and CHEER!
Equipment kits will be provided.
Ages: 8 and older
Instructor: KPRD Staff & Volunteer
Dates: January 27th – March 8th
Time: Provided after Registration
Location: Kernersville Community Recreation Center
Fee: Free, but registration is still required
Challenger Basketball
This league can help kids gain self esteem, independence and form friendships with other kids all while learning the game of basketball. This program is designed for children of all genders to participate in a sports environment structured for their individual success. Players will work on skill building which provides an essential opportunity for kids to develop stronger emotional and social skills while working as a team. They will also experience the spirit of competition as they battle the High Point & Greensboro Parks & Recreation Challenger Teams once a week!
Equipment kits will be provided.
Ages: 8 and older
Instructor: KPRD Staff & Volunteer
Dates: January 27th – March 8th
Time: Provided after Registration
Location: Kernersville Community Recreation Center
Fee: Free, but registration is still required