Adult & High School Lacrosse
Welcome to the Kernersville Parks & Recreation Adult Lacrosse League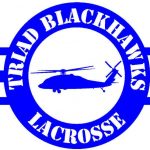 Triad Blackhawks Lacrosse has turned over administration of their adult and high school programs to the Town of Kernersville Parks & Recreation Department. Our mission with this partnership is to continue to provide a quality recreational lacrosse program and leagues for adult and high school age kids.
REGISTRATION FOR THE FALL SEASON HAS ENDED
We have decided to adjust the format a little to accommodate these lower numbers. The format will now be a one-field, two-games-a-day. Teams will be assigned each week by our coaches. This game will still be officiated by one official as field monitor, there will still be two games each afternoon, and the time slot will remain the same 1:30-3:30.
2021 FALL SEASON INFO
Dates:
Sunday, October 24 – Sunday, November 21
Days:
Sunday
Times:
1:30 – 3:30
Location:
Ivey M. Redmon Sports Complex
Season:
5 weeks, 10 games
(4 weeks, 8 games guaranteed)
Age:
Adults and Experienced (prior starting experience) High School Sophomore, Juniors or Seniors
Fee:
$30
Please note that Kernersville may, in their discretion, move players among age classifications based upon physical size, skill, and maturity. All such decisions will be made in the interest of the player and player development.
Kernersville may reject a registration or suspend or dismiss a player if it is determined that past or current attitude or behavior makes that player unsuitable for the program.
Misrepresentations made in the registration process and violations of the Code of Contact are grounds for suspension or dismissal from the program without refund.
Games will be played at Ivey M. Redmon Sports Complex or Cash/Bagley Sports Complex.
All Fees are non-refundable after the schedules have been published.
No registration is complete until payment has been made.
Unless otherwise indicated, all registered players will receive a reversible pinnie or t-shirt.
Kernersville Parks & Recreation welcomes players of all experience levels, including new players.
REGISTRATION
RULES
Code of Conduct
Coaching Philosophy
INCLEMENT WEATHER
REGISTRATION
ADAPTIONS & MODIFICATIONS