Volleyball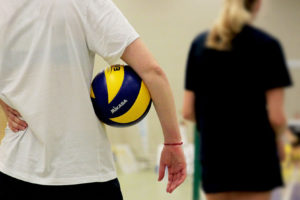 Kernersville Parks & Recreation offers three coed volleyball nights. One is an advanced intermediate which plays on Tuesday and the other two are beginner/intermediate which plays on Wednesday, and Thursday. They both offer a unique pick-up game format but will vary in skill level. We offer two seasons; Winter (January-April) & Fall (September- December). Registration for the Winter season begins in December and for the Fall season in July.
Advanced Intermediate*- Tuesday
2023 Winter Season
Dates: January 2 – April 29
Nights: Tuesdays
Time:

6:00-9:00

Location: Kernersville Recreation Center 125 East Bodenhamer
Fee:

$45.00

Registration: Monday, December 4 9:00AM – Wednesday, January 4 4:00PM
*Advanced Intermediate Player: An advanced Intermediate player is categorized as one whom has mastered the basic skills of volleyball. They have played in structured leagues, volleyball that has been officiated, or mandates legal hits and compliance with volleyball rules. The player should have the physical proficiency to perform all volleyball skills on court at a competitive level; and has achieved ball control and dependability with directional placement ability on shots.
All advanced intermediate players are subject to a skills assessment. Those found to not meet the minimum skill (listed below) will be asked to move to the beginner league on Wednesday nights or have their registration reimbursed.
Minimum Skills:
Has mastered the fundamental actions of volleyball and can perform them consistently at a high skill level and in compliance with volleyball rules.

Can consistently get their serve in. Has the ability to control where their serve goes and control of the velocity of their serve.

Can bump pass the ball with proper volleyball technique and directionally pass to the proper player. Can return serves and hit consistently to proper player on their team. Has the knowledge of digging and can perform this skill. Players at this level must consistently pass with accuracy and control.

Can set the ball consistently to the location needed to properly allow for spikes. Has control over where sets go. Must be able to set ball cleanly with compliance to volleyball rules.

Can perform spikes or overhead attacks consistently when set. Has knowledge of the hitter position and what that positions duties require and can perform those skills.

Has the ability and knowledge to cover the floor in their position on the court. Must have physical range of motion to properly do this; and complete understanding of where to be positioned throughout the game.

Has a clear understanding of volleyball rules and techniques; and can recognize faults and violations.

Skill level is not necessarily associated with how many years you have played the sport. You could have played for years, and still be at a novice level or due to skills or physical conditions. Your skill level may have been at a higher level, and has now dropped to a lower skill level. Conversely, you may have an exceptional skill level and learned the sport quickly and been able to rise to a higher level after playing a short period of time.
Beginner/Intermediate- Thursday
2024 Winter Season
Dates: January 4 – April 25
Nights: Thursday
Location: Kernersville Recreation Center 125 East Bodenhamer
Time:

7:45-9:15

Fee: $25.00
Registration: Monday, December 4 9:00AM – Wednesday, January 4 4:00PM
Beginner/Intermediate- Wednesday
2024 Winter Season
Dates: January 3 – April 24
Nights: Wednesday
Location: Kernersville Recreation Center 125 East Bodenhamer
Time: 7:30-9:00
Fee: $25.00
Registration: Monday, December 4 9:00AM – Wednesday, January 4 4:00PM
COVID-19 GUIDELINES
ADAPTATIONS & MODIFICATIONS
Seasons
Kernersville Parks & Recreation offers two seasons of adult volleyball
Winter
January – April
Tuesday- Advanced Intermediate
Thursday- Beginner/Intermediate
Fall
September – December
Tuesday- Advanced Intermediate
Thursday- Beginner/Intermediate