Explore STEM programming and put your engineering skills up against others! We are hosting the Bridging The Triad here in Kernersville! Bridging the Triad is a FREE event, designed to get kids and adults interested and engaged through a bridge building contest. All supplies and instructions are provided at no cost, and kids and adults can showcase their ingenuity, creativity, and engineering skills as they build a bridge using only 100 popsicle sticks and Elmer's glue. Feel free to stop by the Kernersville Recreation Center to pick up your free packet starting January 14th! Not close to Kernersville? We have additional locations throughout the Triad to grab your packet from as well.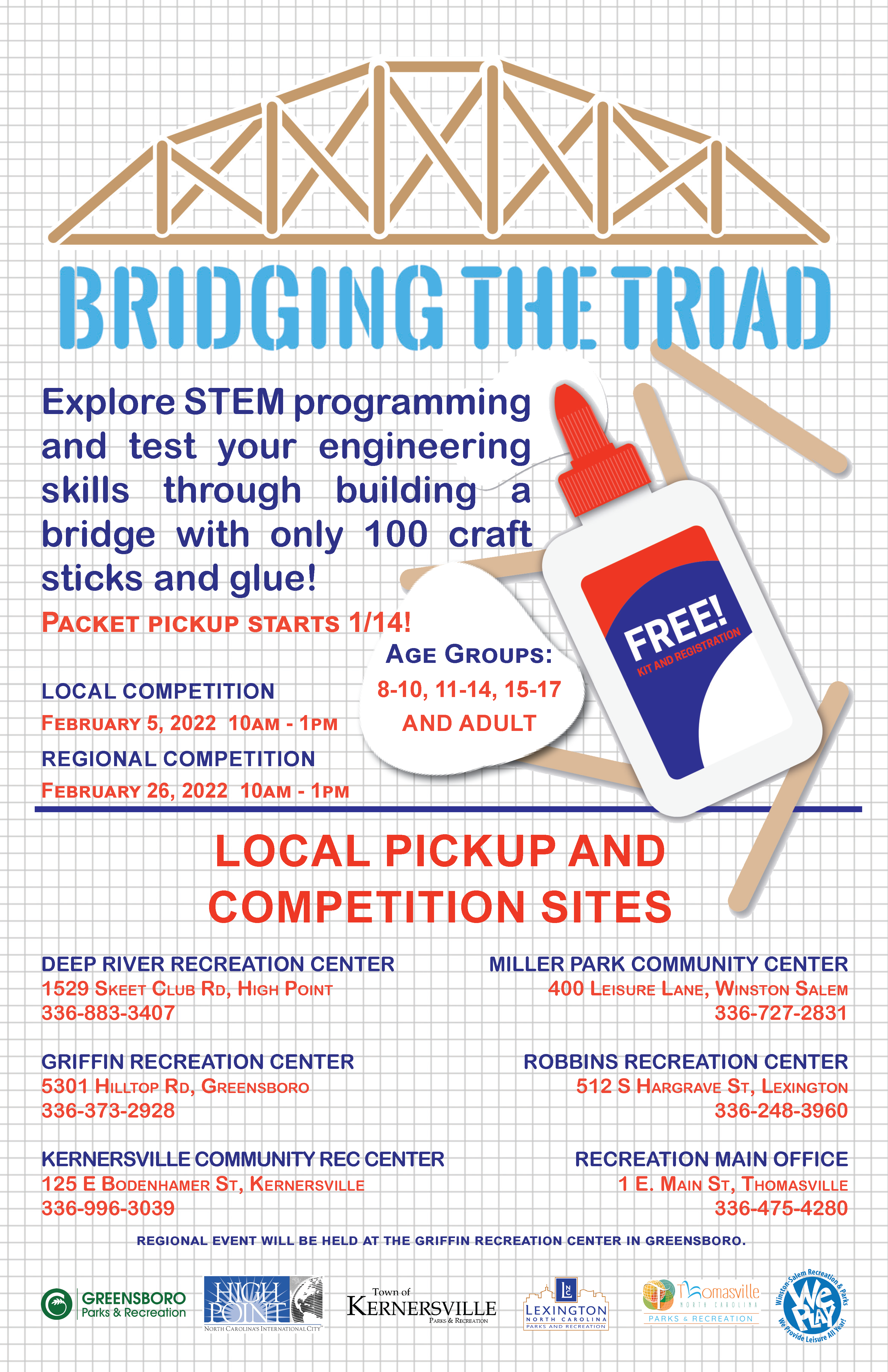 PDF Version – Bridging the Triad Flyer
Pick up your packet and instructions from your rec department, and compete at your local event on February 5. Top bridges will qualify to move on to regional finals held on February 26, and compete for a shot at glory! How much will your bridge hold?
For local competitions, please see the below list for addresses:
Greensboro Parks and Recreation
GRIFFIN RECREATION CENTER
5301 Hilltop Rd, Greensboro • 336-373-2928
High Point Parks & Recreation, NC
DEEP RIVER RECREATION CENTER
1529 Skeet Club Rd, High Point • 336-883-3407
Kernersville Parks and Recreation
KERNERSVILLE COMMUNITY RECREATION CENTER
125 E Bodenhamer St, Kernersville • 336-996-3039
Lexington Parks & Recreation
ROBBINS RECREATION CENTER
512 S Hargrave St, Lexington • 336-248-3960
Thomasville Parks & Recreation
RECREATION MAIN OFFICE
1 E. Main St, Thomasville • 336-475-4280
Winston-Salem Parks and Recreation
MILLER PARK COMMUNITY CENTER
400 Leisure Lane, Winston Salem • 336-727-2831