Civitan Fitness Park Opening Ceremony
May 13 @ 9:30 am

-

12:30 pm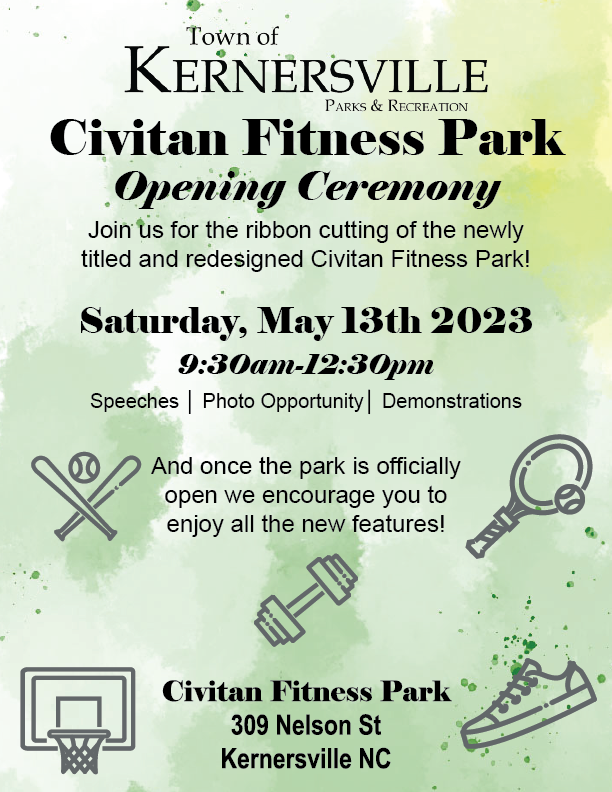 Civitan Fitness Park will celebrate its opening ceremony on Saturday May 13th 2023 starting at 9:30 am.
The park has been renovated with a focus on fitness to encourage the community to embrace health and wellness. It is located at 309 Nelson St, behind the fire station.
Mayor Dawn Morgan, Director Ernie Pages and additional special guests will commence the event with speeches, followed by the ribbon cutting, demonstrations, refreshments and an opportunity to explore the new amenities.
Timeline
9:30am – Speeches & Acknowledgements
Ribbon Cutting & Photos
Future Programs Brief
Demonstrations on each park feature
Quick Thank You
12:30pm- Event Concludes & Free Play!
Contact
For more information about the Grand Reopening contact the Kernersville Parks & Recreation Director, Ernie Pages at epages@toknc.com or 336-992-0804.
General Civitan Fitness Park Information
Visit the Civitan Fitness Park page for details about the Master Plan, The Novant Health Fitness Court®, Yalp Sona & Challenger Course & rules.
Reservations
The park has multiple features to reserve! We are happy to add back our two shelters; they are located near the Yalp Sona and the other is near the courts. Speaking of the courts, we are opening up the option to reserve the tennis courts, pickleball courts and basketball court. Reservations are available online through ActiveNet or by calling the office at 336-996-3062. If you are wanting to reserve for tournament for any of the courts or the ballfield, contact the Athletic Coordinator at 336-996-3039.